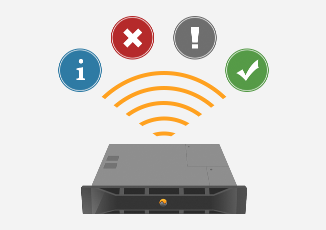 Noction is pleased to announce the release of Intelligent Routing Platform 2.3 – featuring
SNMP Traps
. The new feature offers real-time monitoring capabilities for various events occurring on the IRP platform. IRP 2.3 uses SNMP traps to send alerts towards the customer's monitoring system to notify about events that administrators have chosen to monitor. These are fully adjustable and administrators can decide upon which events should trigger notifications and then configure them on the platform.
Such events include:
Excessive loss detected towards a destination prefix
Excessive latency detected towards a destination prefix
Outage detected towards a destination prefix
A BGP session with one of the providers goes down
And many more.
Besides notifying about events occurring on the platform, the SNMP Traps include the list of Variable Bindings (varbinds) that contains detailed information related to a particular trap.
There are also some improvements to the existing platform functionality:
Checking violation of policies when receiving routing information from multiple routing domains
Added ability to filter results by Routing Domain in the Current Improvements report
Extended maximum allowed VIP probing interval to 14400 seconds
Added support for sFlow 2
The new release includes a series of bug fixes as well. You can find a list of them below:
Duplicate communities in outgoing BGP updates
Reports showing negative performance values in some cases
The BGP service was erroneously removing some of the Static Route policies
IRP flow collector crushing in some cases when collecting IPFIX packets
Incorrect calculation of billing period leading to flow collectors crashes
6 digits values not displaying properly in performance reports
Outdated improvements not being removed
Not displaying the error message during the initial system setup when the API service is down
Manual Prefix Probing results not displaying properly in case of Multiple Routing Domains configured on the platform.
Missing logs for Internal Monitor status
Error when IRP was trying to send regular reports via email
Improper identification of peering status in some cases, preventing improvements from being announced through an
Internet Exchange
BGP session between IRP and edge router going down when a zero ASN value announced
Not saving information about a peering partner when the current route was indicating to an Internet Exchange
Displaying incorrect values for the number of VIP prefixes in system logs
All the above enhancements and fixes make the platform even more stable and efficient, while with the newly introduced feature administrators have more control over the system's behavior and easier means of troubleshooting.