Noction is proud to announce the release of IRP 2.2. The new version features support for Multiple Routing Domains (also named multisite or multiexit) and major improvements to the Commit Control algorithm.
Multisite Support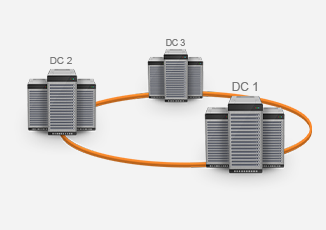 ISPs and telecom providers operate multiple Points of Presence (POPs) that serve as access points from one place to the rest of the Internet. The new version of Noction IRP can now efficiently optimize routing for ASes with multiple physical locations, in relatively close geographical proximity, distinguished by different routing domains. A single IRP instance collects statistics about traffic, probes available destinations and makes improvements towards specific prefixes/networks on the Internet. IRP multisite configuration works best if the Point of Presence are physically close to each other.
---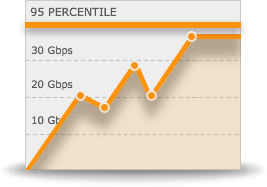 Commit Control improvements
The IRP component responsible for keeping the committed 95th percentile is now reacting faster to commit overloads due to the improved unloading mechanism.Another considerable enhancement to the Commit Control consists in the ability to automatically adjust its aggressiveness depending on the frequency of overload attempts happening. This decreases even more the probability of exceeding the committed 95th with the providers.
---
Improvements Confirmation
Improvements Confirmation is a feature designed to address network variability over time. There are cases when performance metrics towards a destination degrade significantly for very short periods of time and subsequently return to normal. The Improvements Confirmation feature schedules a potential improvement for confirmation after a short period of time instead of immediately announcing it. This allows IRP to verify that a detected problem is short-lived and there is no need to perform the improvement. Only if IRP detects the same probing results during confirmation, will an improvement be considered relevant and be announced.This feature also helps with fluctuating network performance metrics of some very big volume destinations. By fine-tuning Improvement confirmation delay IRP can be configured to significantly reduce Improvement flapping – the situation when an improvement is moved back and forth between providers due to the fact that performance metrics for the default route fluctuate between very good and significantly worse.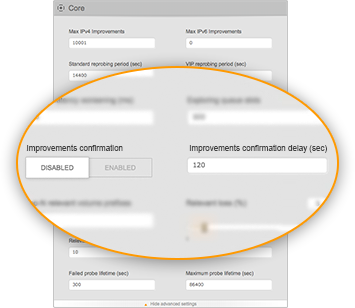 ---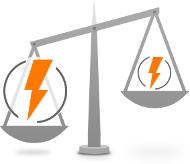 Improvement Weight
To ensure that the most important improvements are kept active by the platform, IRP 2.2 assigns weights to each improvement based on the overall impact that it has on network performance. This way we make sure that a potential improvement of a lower impact will never replace a truly critical one.
IRP 2.2 Screenshot Galery