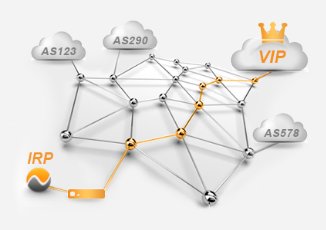 Noction released the 1.8 version of IRP, introducing a new "VIP Improvements" feature, a fully reworked BGP daemon and a set of configuration wizards.
A new feature called "VIP Improvements" has been implemented in the new 1.8 release of Noction IRP. This feature allows specifying a predefined list of prefixes or AS-es that will get special attention by being periodically priority-probed by IRP. VIP Improvements allow Service Providers to proactively diagnose and solve network issues towards the directions, which are critical for their business.
The new release has a fully reworked, faster and more functional BGP daemon. It has a tighter control over the BGP sessions, making them considerably more stable and reliable. The process of analyzing the improvements and injecting them into the routing tables is faster and more efficient. The BGP daemon now offers much more feedback.
In order to facilitate installation and configuration processes, the new IRP version offers a set of configuration wizards, which makes it simpler for administrators to properly setup and configure the system.
In IRP 1.8 the system performance has been significantly improved. A proactive approach has been applied to the probing process to ensure faster problem resolution in critical destinations. There has also been made a major step towards elimination of the possibility of system miss-configuration.
 IRP 1.8 Screenshot Galery