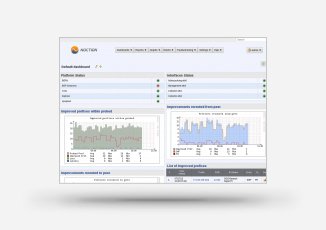 Noction development team is proud to announce the immediate release of Intelligent Routing Platform 1.5. This release is a major improvement, which includes a large number of new features and enhancements.
The main platform version 1.5 feature is Commit Control.
As actual ip transit providers rarely price bandwidth at a simple flat rate, a common pricing model is to offer tiered levels of bandwidth, with a minimum commitment and a higher burstable amount. Thus, companies pay the same amount regardless of usage up to a certain point, but can use more bandwidth at peak times at a higher price. Burstable pricing means that transit costs are related to how much bandwidth a customer is actually using relative to its contract with the provider. Noction addresses this by incorporating billing structures into its policy models, so that it can adjust and keep predefined bandwidth commit rate levels for each provider link.
Among other features, platform frontend got lot of improvements, such as:
Feature-rich Search, Notifications and Alerts;
Ability to add new Dashboards and Gadgets;
New graphs in the Analytics section;
Completely new look;
Contact us to schedule a live Demo or perform a free test deployment in your infrastructure.