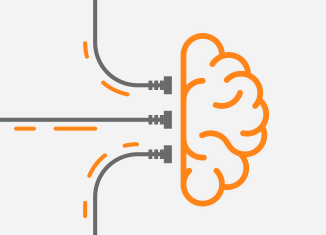 The
Intent-based Networking (IBN)
concept is actively being discussed by IT professionals over the last few months. It represents a new approach to networking, where special software helps to plan, design and automatically implement on the fly changes to the network, improving its availability and agility. The topic has received a lot of attention since June 2017, when Cisco
published
its intent-based networking strategy, called "The Network. Intuitive." According to Cisco, its IBN platform represents one of the most significant breakthroughs in enterprise networking. The company claims that it is a network of a new era, which can learn, adapt and evolve.
Cisco is not the only one working on IBN. Other companies have been coming up with their own versions of the IBN platforms. For instance, Apstra, a Silicon Valley startup actively develops its intent-based, closed-loop, vendor-agnostic Apstra Operating System (AOS). Based on the company's defined intent, AOS translates policies into a network configuration that is automatically deployed within the network infrastructure. Being vendor-agnostic, AOS supports network devices from different vendors such as Cisco, Arista or Juniper.
Before we fully dive into the IBN topic, let's discuss certain challenges we face in today's networks. These challenges reveal the main motives that push the big network players such as Cisco or Juniper into the IBN market.
Even though our networks have been successfully delivering services throughout the years, their management and maintenance still remain a challenge. According to Garner, the majority of network changes are still CLI-driven. The manual approach is prone to mistakes inserted by the IT staff. Avaya claims that 82% of the surveyed companies in the United States, Canada and the United Kingdom experience some type of network downtime caused by IT personnel making errors when configuring changes to the network core. The survey further reveals that 80% of these companies lose revenue when the network goes down. As a result, 1 out of 5 companies fires an IT employee because of a downtime.
Another big issue is the scaling of "things" in the Internet of Things (IoT) era. Gartner estimates that 20.4 billions of devices will be connected by the year of 2020. Managing such a high number of things with traditional manual methods simply does not scale. Obviously, configuration tasks must be automated in order to reduce the configuration workload.
So what is the IBN all about?
The idea behind the IBN is that humans tell the network an "intent". The intent is what we want to happen, a desired state of action that the IBN is going to take.  No configuration is provided, a network itself must figure out what action is needed to fulfill the intent.

If we take analogy with an aircraft flight, the desired intent would be "fly the Boeing 777-300ER, flight number DELTA 8817 from Atlanta (US) to Paris (EU), depart Tue, Jan 16th, 2018 5:50pm and arrival Wed, Jan 17th, 2018 8:10am". In our example, the autopilot (CAT IIIc) represents an IBN system. The autopilot validates the intent (What) and translates it into action (How). The action includes several tasks such as taxi (moving from a hangar to the runway), takeoff, climb, cruise (level flight), descent, approach and landing. The autopilot CAT IIIc automates all of the flight phases without any human interaction, including landing, rollout and taxi. It constantly monitors and collects real-time flight statistics, taking correct actions based on them. The autopilot controls the airplane in three axes – roll, pitch, and yaw during the flight, ensuring that the intent – the flight from the United States to Europe is maintained and finally accomplished.

Note: In fact, CAT IIIc (Landing, rollout, and taxi) autopilot is not used in airplanes to date, but may be used in the future.
The intent-based networking systems are most likely to be available as software products or SaaS with the "intent" being transmitted to IBNs via a series of commands or APIs. The IBN interprets the intent and decides on when and how the changes can be applied to the network. Based on the machine learning algorithms, IBNS suggests the optimal network configuration prior to deployment. Once given a permission, the IBN can perform the necessary changes. Important to note that IBNs are receiving information about the current state of the network at all times, comparing it to the desired one and taking corrective actions when necessary.
Machine Learning and Network Orchestration in Intent-based Networking
Both Machine Learning and Network Orchestration make IBN capable of reducing the complexity of network policies management/maintenance and of simplifying the deployment of network services.
Machine learning (ML) is an integral part of the Intent-based Networking. It gives IBN an ability to analyze data, extract information from data and learn from it automatically, without being explicitly programmed. Learning ability allows algorithm to make predictions on data. With more data provided, a learning process gets better which subsequently leads to better predictions. ML is an application of Artificial Intelligence (AI) that gives machines an ability to act smart. While AI represents a broader concept giving machines non-natural intelligence, ML is a branch of AI, focused on giving machines access to data and learn for themselves.
Network orchestration (NO) tools in their turn use automation to provide network services on networking devices. A good example is Cisco's Network Services Orchestrator (NSO) that supports the implementation of services such as L2 and L3 VPNs, BGP peering, ACLs on hardware devices, virtual appliances and SDN controllers, using protocols such as NETCONF, CLI, Rest and SNMP to talk to the devices.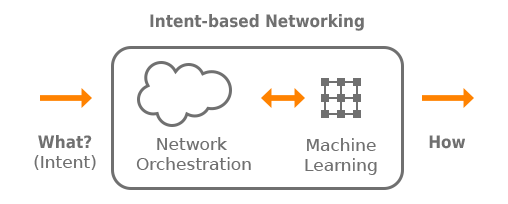 Picture 1:  Role of Network Orchestration and Machine Learning in Intent-based Networking
---
Conclusion:
Although Internet-based networking is certainly a hot topic, it will not become mainstream any time soon. Gartner predicts that it will not be broadly accepted before 2020. However, once becoming a common reality, IBN will completely change the way network administrators work, removing repeating and tedious configuration tasks and moving from reactive to proactive approach.