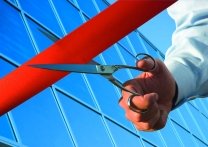 Noction, a leading provider of network routing optimization software through its Intelligent Routing Platform (IRP), opened a new office in Pune, India. The move is linked to what Noction sees as a high growth area over the coming years and is a direct expansion plan resulting from the series A financing round recently completed.
Noction is facing demand for its routing optimization product from Asian Service Providers who are looking for solutions to handle the local data consumption boom. Companies are looking to deliver content to an increasing number of consumers while minimizing bandwidth expense, Noction IRP being the tool that enables them to considerably reduce usage of expensive Internet Service Providers.
"Asia is a very important and strategic area of growth for Noction," says John Strong, a Director at Noction. "Pune was an ideal choice as it is a well established IT hub and we have a large local customer base to tap. Pune is also an ideal choice for recruiting the best and brightest as well as having excellent travel connections to the rest of India," he further adds.
Grigore Raileanu, the original founder of Noction and Director, goes on to highlight the significance of the move. "This is a fantastic step for Noction as a whole and it is something everyone involved with Noction is excited about. The importance of a regional presence can not be underestimated and it is a mentality we will be taking to other areas as well."
Noction will be hiring both sales and technical support engineers in Pune to support the regional client base.