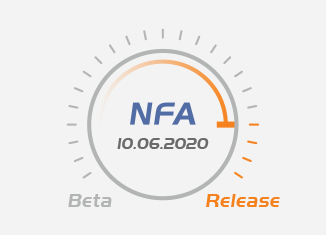 Today we are excited to announce that the
Noction Flow Analyzer (NFA)
will be officially released on
October 6th, 2020
.
When we launched our IP flow analyzer back in October of last year, we knew it would take some time to perfect. Since then, we've been working hard to add new features, fix bugs, and support the contributors' ideas to create a superior experience for the network professionals.
We are now ready to soon officially release the polished product that offers all the key features you've come to expect from the most advanced network analysis and monitoring solution. As a reminder, today, our Flow Analyzer:
Supports NetFlow, J-Flow, sFlow, IPFIX, NetStream;
Can be installed on servers running CentOS and Ubuntu with very modest hardware specifications;
Offers swift data processing that allows obtaining even the most complex query results in seconds.
Is capable of ingesting vast amounts of flow data;
Provides administrators with complete, up to the minute network traffic visibility on bandwidth usage, conversations, subnets, traffic usage by application, traffic distribution by locations, top prefixes, top ASNs, and a lot more.
Offers endless data filtering and grouping options to slice and dice network traffic data as you see fit.
Presents data over an intuitive, polished and easy to use interface, offered in both Light and Dark modes
Has a comprehensive Alerting system that allows setting up a multitude of utilization, duration, and frequency-based alerts.
Shows a clear picture of the BGP paths your traffic is taking, the countries, regions, or cities your traffic originates and terminates in, traffic volume distribution by different paths, etc.
Noction Flow Analyzer, with its vast capabilities and a super affordable pricing model with no limitations on the number of devices, interfaces, or sites, opens up the world of network traffic analysis to everyone. Regardless of your skill level, organization's network size or budget, NFA will make the entire process of analyzing and managing flow data extremely easy for you.
We also recognize and are thankful to the teams who offered to try out early versions, suggested new features, and helped us properly shape the product's frontend. That being said, we would like to announce the special limited-time NFA pricing program for the early adopters.
Those who have already installed NFA or will manage to sign up by September 14th, 2020 can benefit from a 50% discount for the first three use-months and a free BGP Data addon. The total per month cost during this period will be only $149. Existing users can sign in to their billing accounts and find this limited-time specially priced license option available under the corresponding category.
Hundreds of organizations have installed NFA during the beta. The amount of interest and the obtained feedback is appreciated. However, this is just the beginning! Please note that we will now start to roll out NFA updates on a monthly basis with exciting features being added in the upcoming releases. Stay tuned; there is much more to come!