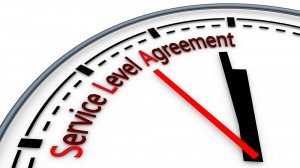 Service Provider's customers want to know the time frames they can expect a response and resolution from the provider when they submit a request for support. A Service Level Agreement or simply SLA is a contract between a Service Provider (vendor) and a customer, which stipulates and describes the details of the business relationship among the parties. There couldn't be a better way for a Service Provider to stand out of the competition than promising guaranteed and timely response to customers. In a typical SLA, a provider guarantees to attain the predefined performance levels while the customer obtains certain compensations in case the supplier is not able to deliver on the stipulated promises. SLAs may include the following metrics:
Services availability times
Specific performance levels indicators
The timeframe allowed for network update notifications
The support team response time
Mean times to detect and resolve an issue (MTTD/MTTR)
The type of statistics that a customer will be presented with
An SLA is a representation of the value, reliability, accessibility, capacity, quickness, user-friendliness, properness, productivity or effectiveness of certain services. A high-quality service level agreement is a key element to a successful business relationship. A good SLA should detail the following:
The provider's promises
The ways the provider will deliver on promises
The ways the delivery will be measured
Penalties for the undelivered promises
The possible future changes to an existing SLA
SLAs are now valuable marketing tools, which help vendors attract new customers. Vendors are using SLAs to differentiate themselves from competitors by proposing gradual levels of performance for various services, at fluctuating costs, thus offering customers multiple options to choose from. A stringent SLA agreement became a selling point in itself for service and content providers, as customers are less likely to tolerate even short-term downturns in service.
Those vendors that fail to deliver on the stipulated promises suffer enormous penalties for even short service outages and poor network performance. To ensure the ability to deliver against service commitments, providers try to enhance their networks performance and uptime. Many find a remedy for this issue, by improving their network performance with intelligent routing solutions such as the Noction Intelligent Routing Platform.
Noction IRP enhances network performance, increases uptime and reduces network operational expenses, empowering Service Providers to better meet their SLA agreements. IRP analyses the provider's outbound traffic. It continuously probes the internet routes for a set of performance and cost metrics through all the available ISPs. Furthermore, it injects the optimal routing policies that are in conjunction with business objectives and service demands back into the edge router. Thereby networks deliver uninterrupted, state of the art service to their clients, minimizing the possibility of breaching the SLA terms and conditions. With the Intelligent Routing Platform, companies can significantly reduce their penalty-related expenses while simultaneously increasing the overall quality of service and customer satisfaction.