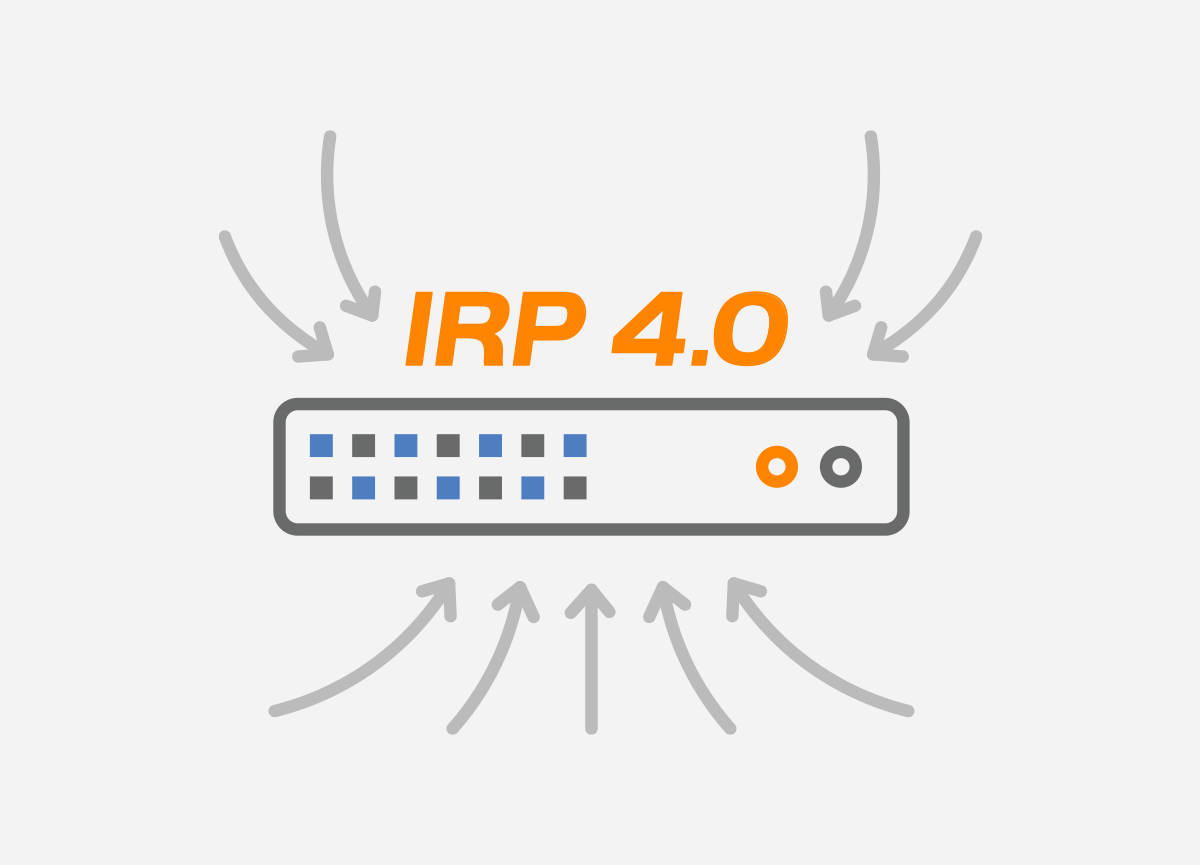 Today, we are proud to announce the release of the
Intelligent Routing Platform 4.0
. This new version introduces an exclusive
Inbound BGP Performance Optimization
feature, which allows
automated
shaping of inbound traffic based on a set of predefined user-specific rules and explicit network performance indicators.
Most organizations running multihomed networks tune the Border Gateway Protocol configuration on their routers to control traffic routing. While content providers primarily focus on their outbound traffic, access providers attempt to handle their inbound traffic behavior. For most of them, however, controlling the flow of the incoming interdomain traffic is a challenging task. The hardship of directing the flow of ingress traffic lies in the difficulty of predicting which BGP route will be selected by distant ASes and the need for a high number of manual changes when applying specific traffic engineering techniques. Inability to timely measure the outcomes of inbound traffic engineering actions adds to the complexity of such processes.
Noction IRP 4.0 was released to specifically address the inbound performance optimization challenges described above. Read on to learn the details.
Inbound Performance Optimization Overview:
The Inbound Performance Optimization feature is based on IRP's automated network performance metrics identification algorithm and the use of customer traffic engineering (TE) capabilities of particular IRP client's providers.

Typically, network providers give customers the ability to influence traffic based on the announced BGP community, the so-called traffic engineering capability. Customers of such providers can check if their upstreams support this functionality by reviewing the upstreams BGP routing policies, formerly published in Whois/RDAP for the provider's Autonomous System, or by contacting providers directly. In other words, traffic engineering capability, therefore, represents a list of BGP communities that a provider configures on their side for the customer's use. When prefixes tagged with a specific BGP community from such lists get announced by clients, the upstream provider applies the corresponding action to those prefixes.
To enable Inbound Performance Optimization, users ought to configure a set of rules. Such rules govern the selection of prefixes that are due to be automatically analyzed/probed by the platform, according to the user's network-specific needs and requirements. The rules also contain details of particular providers' traffic engineering policies.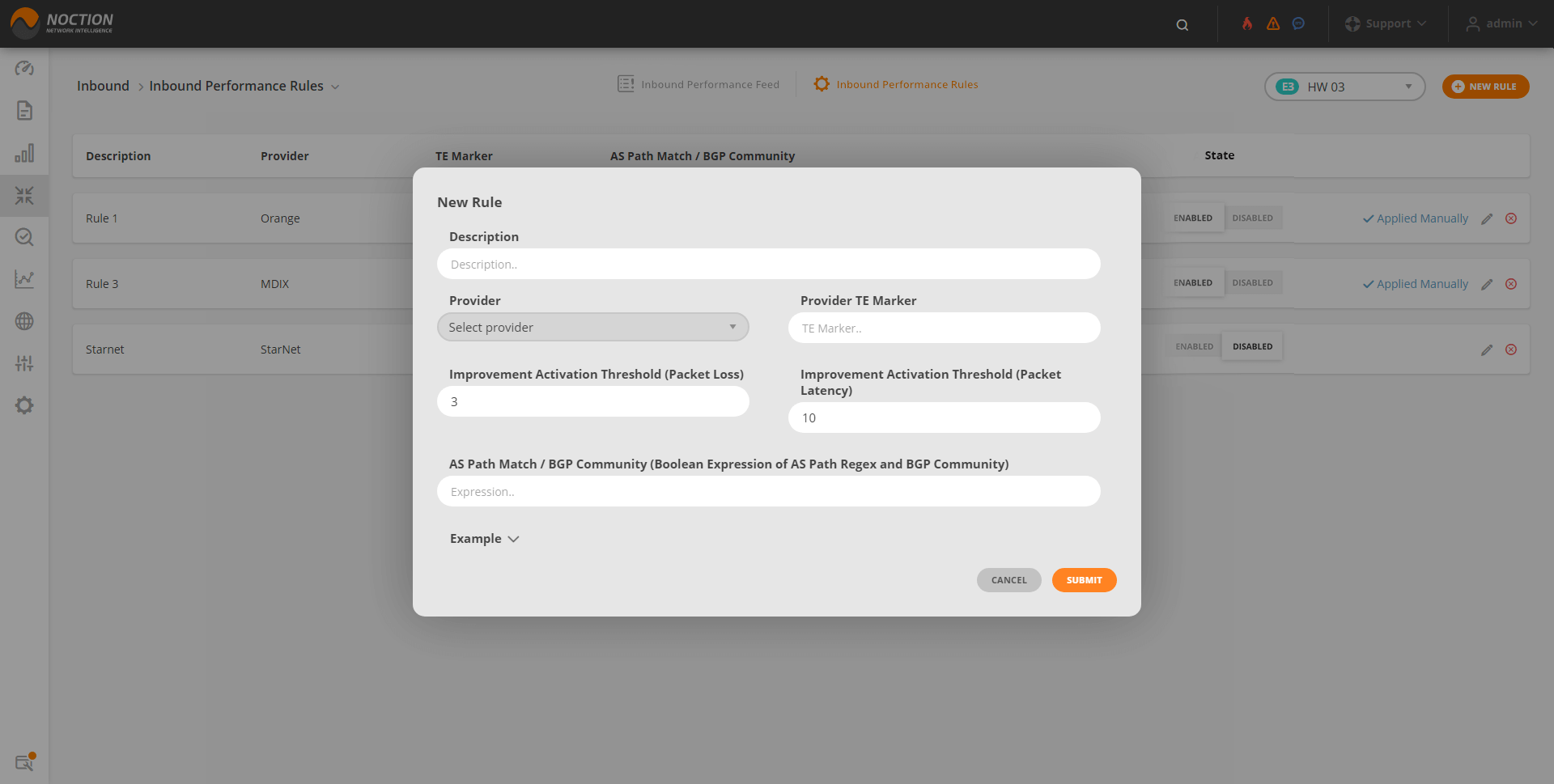 IRP analyzes network performance and applies improvements per individual preconfigured rules in the following order:
probes prefixes that generate inbound traffic to build a statistical route performance model per each inbound rule
reprobes prefixes according to the configured inbound reprobing interval
compares reprobing results with a statistical model
calculates the degree of network performance worsening/improvement and reannounces inbound prefixes with specific TE markers
checks the improvement relevance on subsequent probing sessions.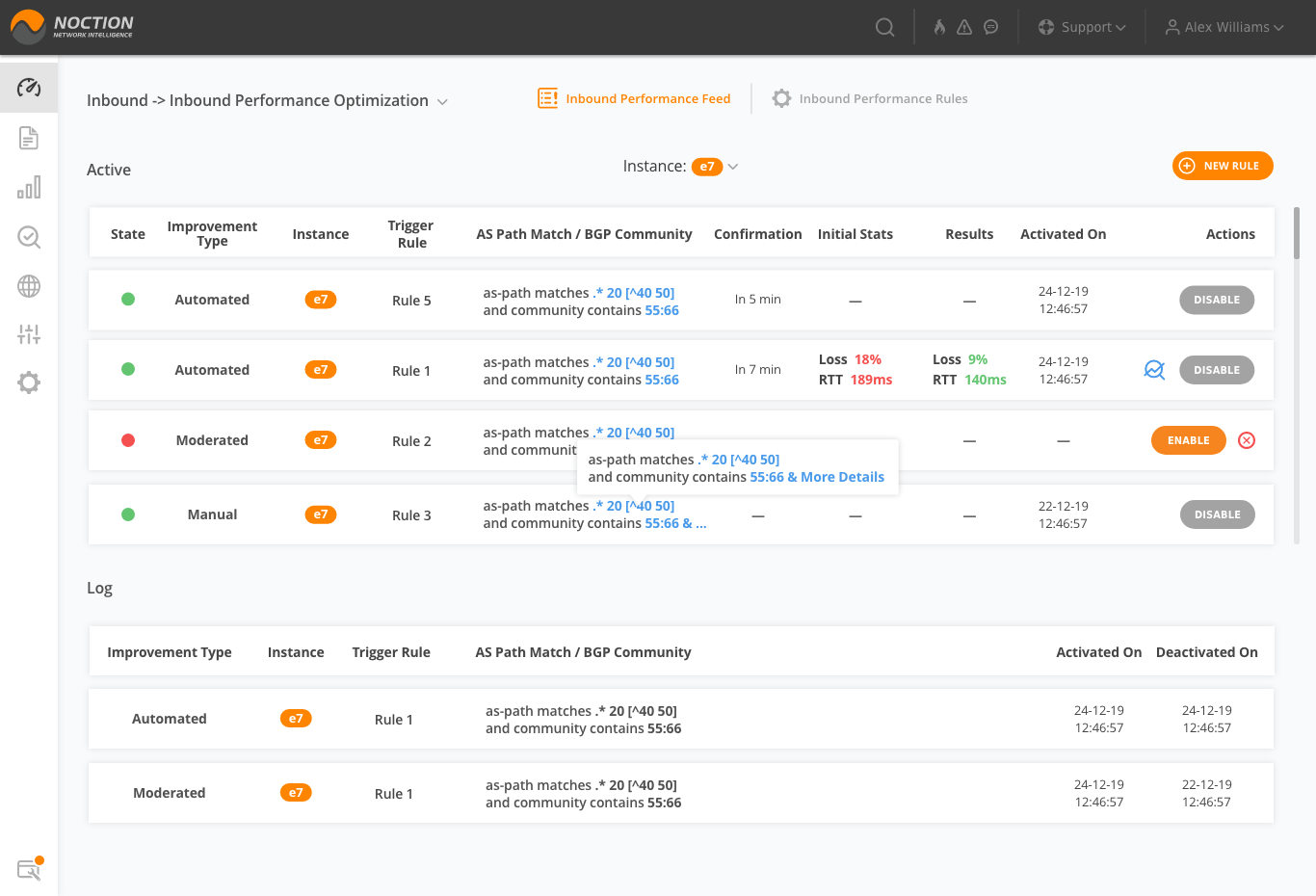 There are two modes in which Inbound Performance Improvements can be enabled:
Automated – IRP enables/disables all inbound performance improvements automatically when such are calculated.
Moderated – stands for manual confirmation of the inbound performance improvements. Once IRP detects an improvement, a suggestion to enable it is displayed in the platform's frontend. IRP does not perform any improvements without user confirmation. Suppose an improvement is not enabled in time before a subsequent cycle of checks. In that case, IRP reviews the proposal and adjusts it as needed, keeping the recommendation, making a different one, or removing the improvement proposal.
---
Note, inbound improvements can be enabled manually as per a particular rule. This is done at the discretion of the user. IRP does not make any calculations or proposals in such cases.
---
Noction IRP 4.0 sets the bar high when it comes to BGP automation. The advanced platform capabilities introduced in this release make routing optimization a genuinely effortless process for all kinds of multihomed networks, regardless of their traffic ratios and characteristics, be it heavily inbound, outbound or balanced.
Schedule a personalized demo today or email sales@noction.com to get more information on the complete set of features available with IRP 4.0