Noction is pleased to announce that the highly anticipated 3.0 release of the Intelligent Routing Platform is now available. The new release includes two major features that will add even greater value to IRP.
Application Programming Interface (API)
We've been working hard to offer you the means of incorporating IRP functionality and data into your monitoring tools, website applications and mobile apps. From now on, IRP is equipped with a rich API that enables retrieval of system statuses, reports and analytics by third-party monitoring applications. Reports like Current Improvements, Exchange Statistics, Cost Overview and many others can be retrieved in JavaScript Object Notation (JSON). Besides reporting, the API delivers the statuses of various IRP system components and the state of the BGP sessions with the connected providers. Third party applications can also incorporate some of the Noction IRP's troubleshooting tools like Manual Prefix Probing. The API runs on the IRP instance using token-based authentication and offering error-handling capabilities in case of any issues while trying to query the API. For more information, current customers can access the API Reference available in the IRP frontend under the Help menu. More technical details can also be found in the 1.2.16 IRP API section of the IRP documentation.
Real-time notifications
IRP records and monitors a vast number of information and events; the majority of which are essential for a network administrator's awareness. Therefore, a highly requested feature from our customers was to supply real-time notifications for administrators when such events occur. IRP 3.0 can generate a wide variety of alerts via email or SMS. These notifications can be also issued via SNMP Traps to any Network Management System. Every IRP system component has its own set of notifications that an administrator can subscribe to.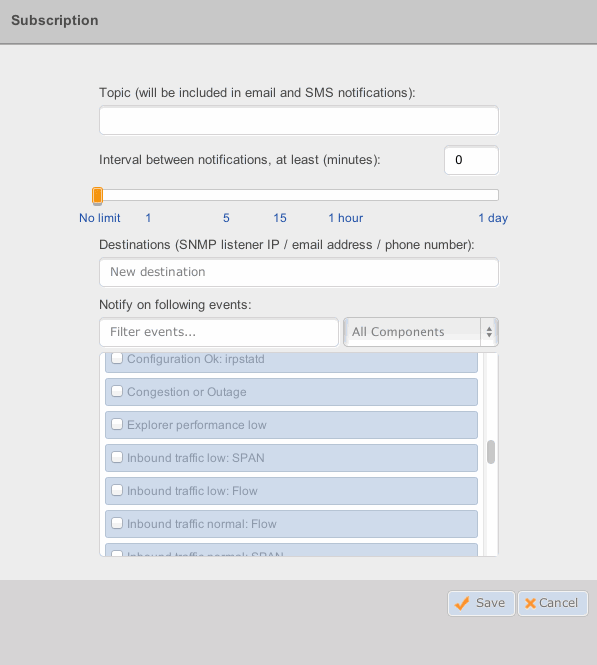 IRP-issued alerts can notify about:
The status of IRP system components
The state of BGP sessions with the transit providers
Provider overloads
Excessive packet loss or latency
Congestion or outage
Low levels of inbound or outbound traffic
Low improvement rates
The state of PBR policies
The state of SNMP data supply
To see the full list of events and notifications, see section 1.2.15 Notifications and events in the IRP documentation.