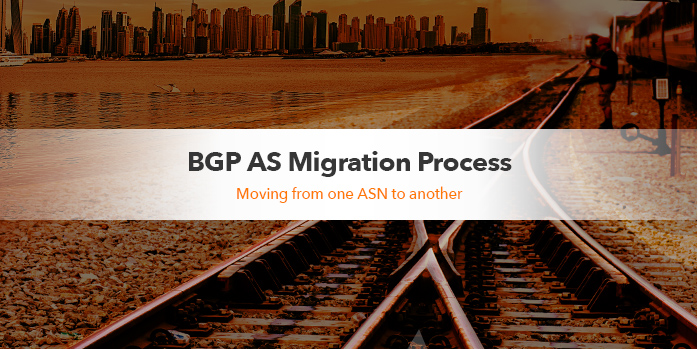 BGP Autonomous System (AS) migration is a process of migration from one AS to another AS. It is typically a scenario when a company, which we will refer to as company B, which has been assigned its AS number (ASN) by the Regional Internet Registry (RIR), is purchased by another company, which we will refer to as company A and this company has a different ASN. As a result of this, company B needs to reconfigure the ASN on its BGP enabled routers to the ASN assigned to company A. Sounds quite simple, however, in real life, there are certain challenges associated with AS migration. We are going to discuss them in this eBook.
First of all, imagine that companies A and B are Internet Service Providers (ISPs). As we have mentioned, company B is going to migrate its ASN to the ASN assigned to company A. After a change of the ASN on ISP B routers, all the customers of ISP B are forced to reconfigure their Customer Edge (CE) routers. Their CE routers have established external Border Gateway Protocol (eBGP) peer session with the Provider Edge (PE) routers of the ISP B. Basically they have to change the ASN in a neighbor command, under BGP configuration to reflect a new ASN assigned to the ISP B. It might be a tricky process since the ISP B can have a lot of customers. Moreover, it would be hard to coordinate reconfiguration on a multitude of CE routers at the same time in order to shorten network outages. For this reason, common AS migration mechanisms must be implemented. The mechanisms require no interaction with customers during and after ASN migration.
In fact, BGP AS migration mechanisms are not included in RFC 4271 – Border Gateway Protocol 4 (BGP-4). Instead, a separate RFC 7705 is created to describe them. The mechanisms allow ISPs to migrate the old (legacy) ASN to a new ASN while Border Gateway Protocol configuration of CE routers is kept untouched. These additional features of the BGP protocol ensure that a change of the ASN on a PE routers is not visible for CE routers. Thanks to this, customer's' routers can keep the legacy ASN for their BGP peer – a PE router for the period of the migration process. However, during a next maintenance window, customers can freely reconfigure the ASN value under Border Gateway Protocol configuration on their CE router to reflect a new ASN assigned to their ISP. In other words, a change of the ASN on a provider side does not impact the customer's side. Customers are not forced to cooperate during an AS migration.