Noction Flow Analyzer Datasheet
What is Noction Flow Analyzer?
Noction Flow Analyzer is a flow-based monitoring and reporting software which collects, stores and presents traffic data across the entire network and protocols to network professionals for future analysis. The product enables engineers to optimize their networks and applications performance, control bandwidth utilization, do the proper network capacity planning, perform detailed BGP peering analysis, improve security and minimize network incidents response time.
Supported Protocols
• NetFlow    • J-Flow    • sFlow    • IPFIX    • NetStream    • SNMP    • BGP
Features Highlights
Network Traffic Monitoring
Noction Flow Analyzer offers you a complete, up to the minute network traffic visibility on bandwidth usage, conversations, subnets, traffic usage by application, traffic distribution by locations, top prefixes, top ASNs and a lot more.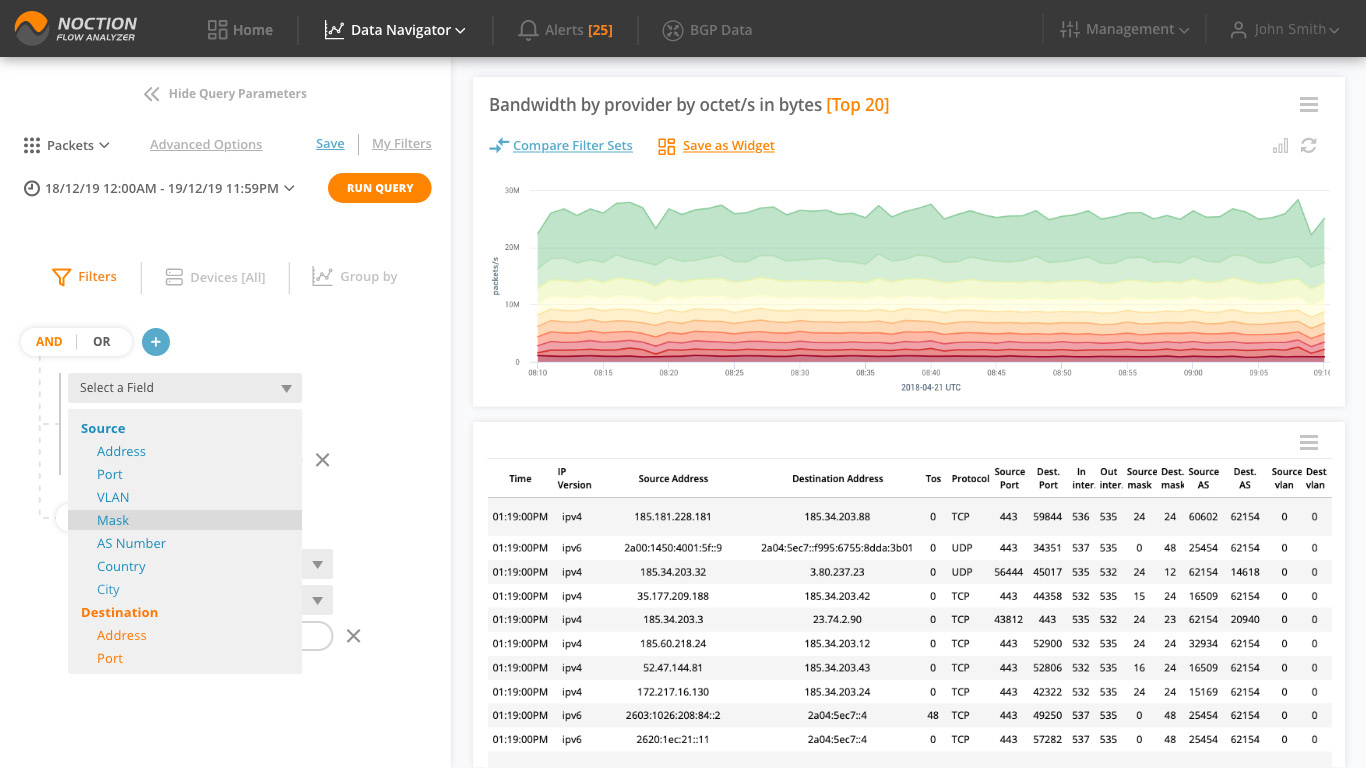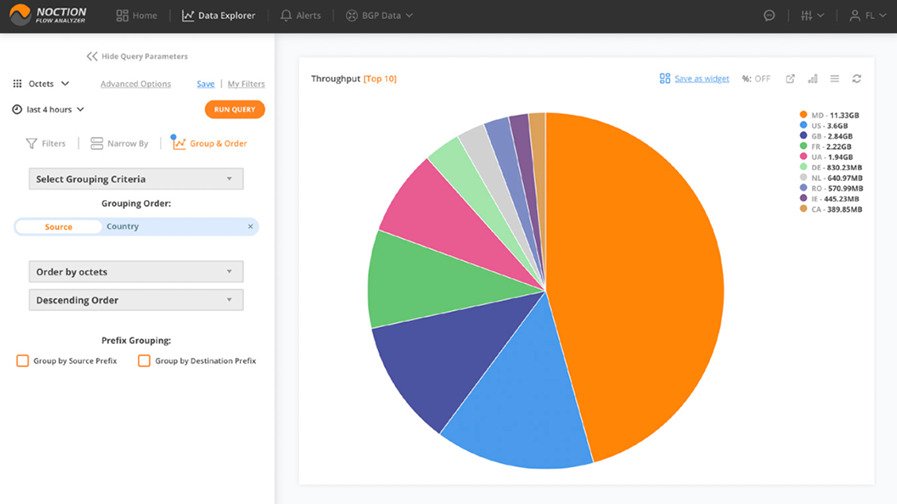 Intuitive Dashboards and Widgets
To keep a close eye on your network traffic, use NFA's default widgets and dashboards or configure personalized ones with a vast selection of filters and metrics. Alternatively, craft your own queries and drill down deep by using Noction Flow Analyzer Data Navigator to explore the current and historical flow data.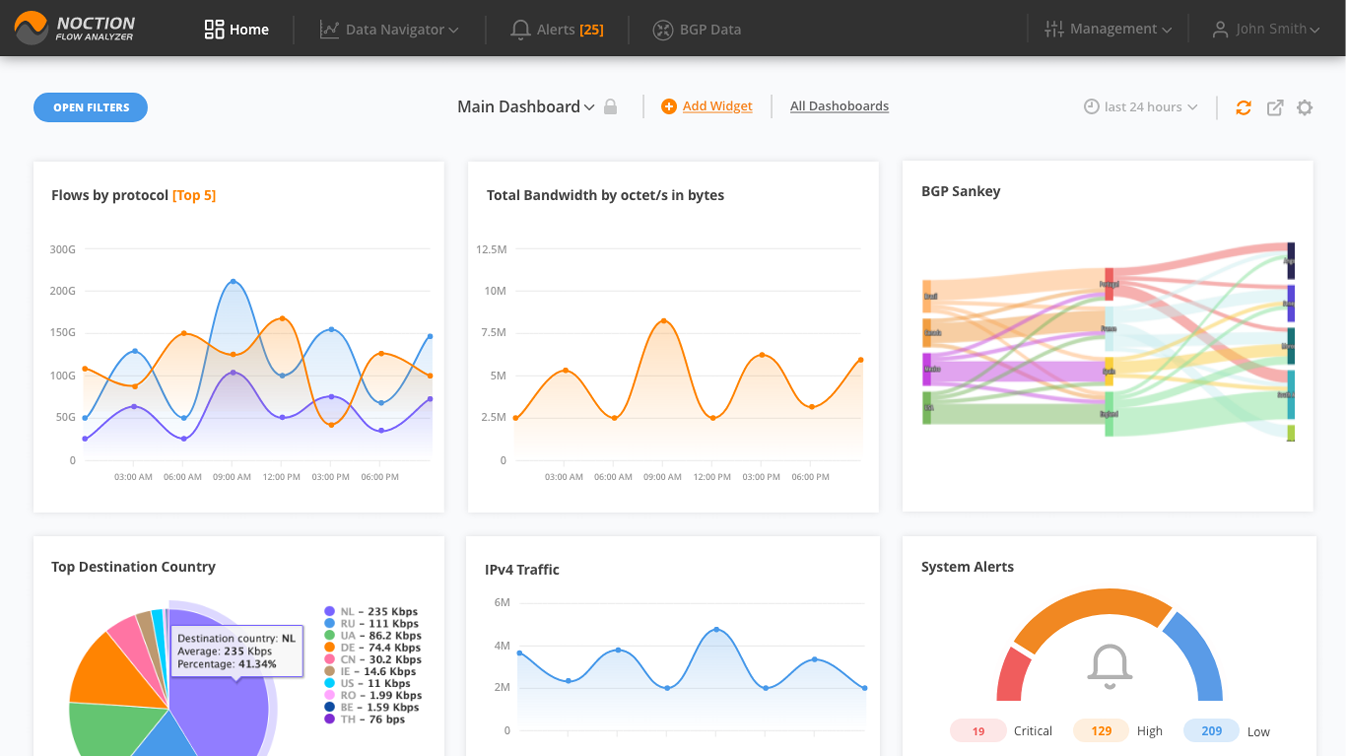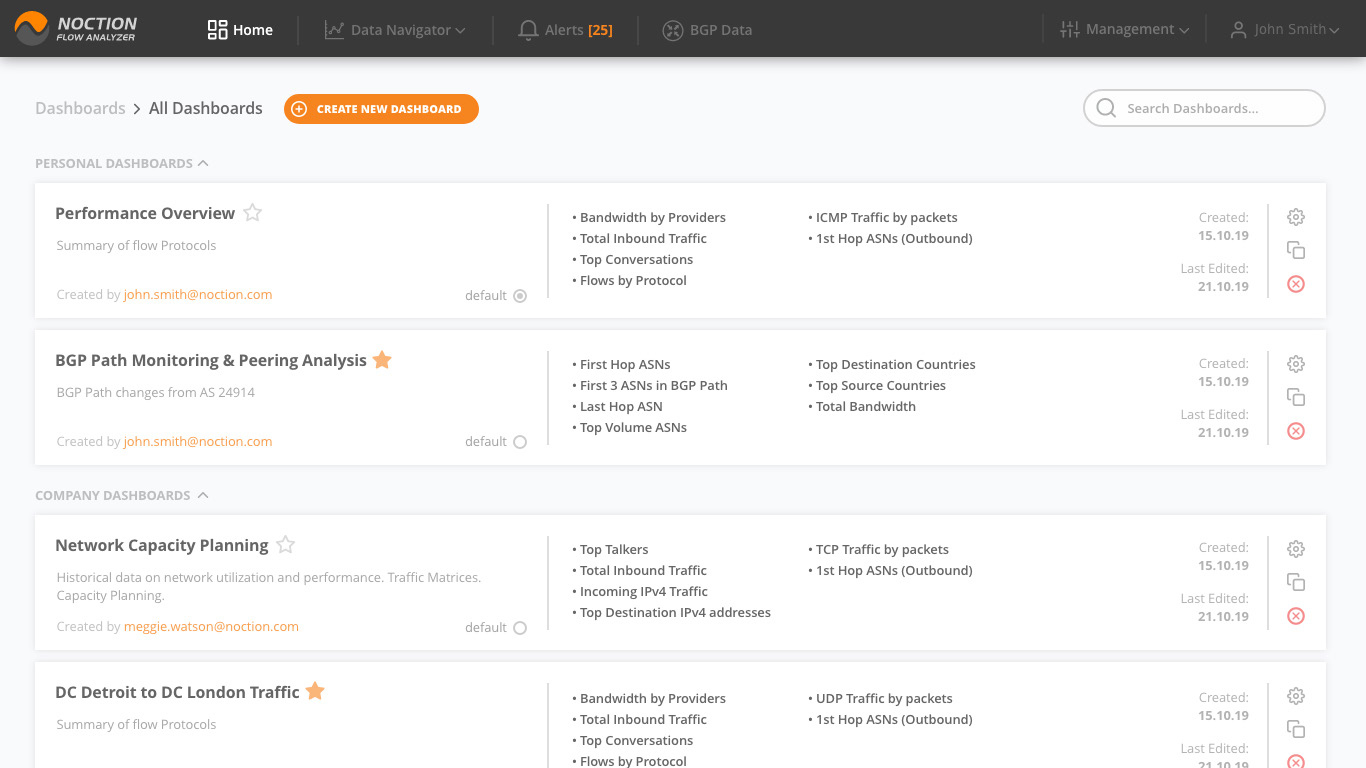 Vigilant Alerting System
Know about your network traffic issues before they affect your business. Setup a multitude of utilization, duration and frequency threshold-based alerts or adjust the existing ones for your needs. Have them delivered via individual notification channels such as email or a specific Slack channel.
Get notified when the UDP or certain Application traffic spikes occur, when no flows are received for more than a preset time interval, when the bandwidth thresholds are exceeded or any other possible scenario.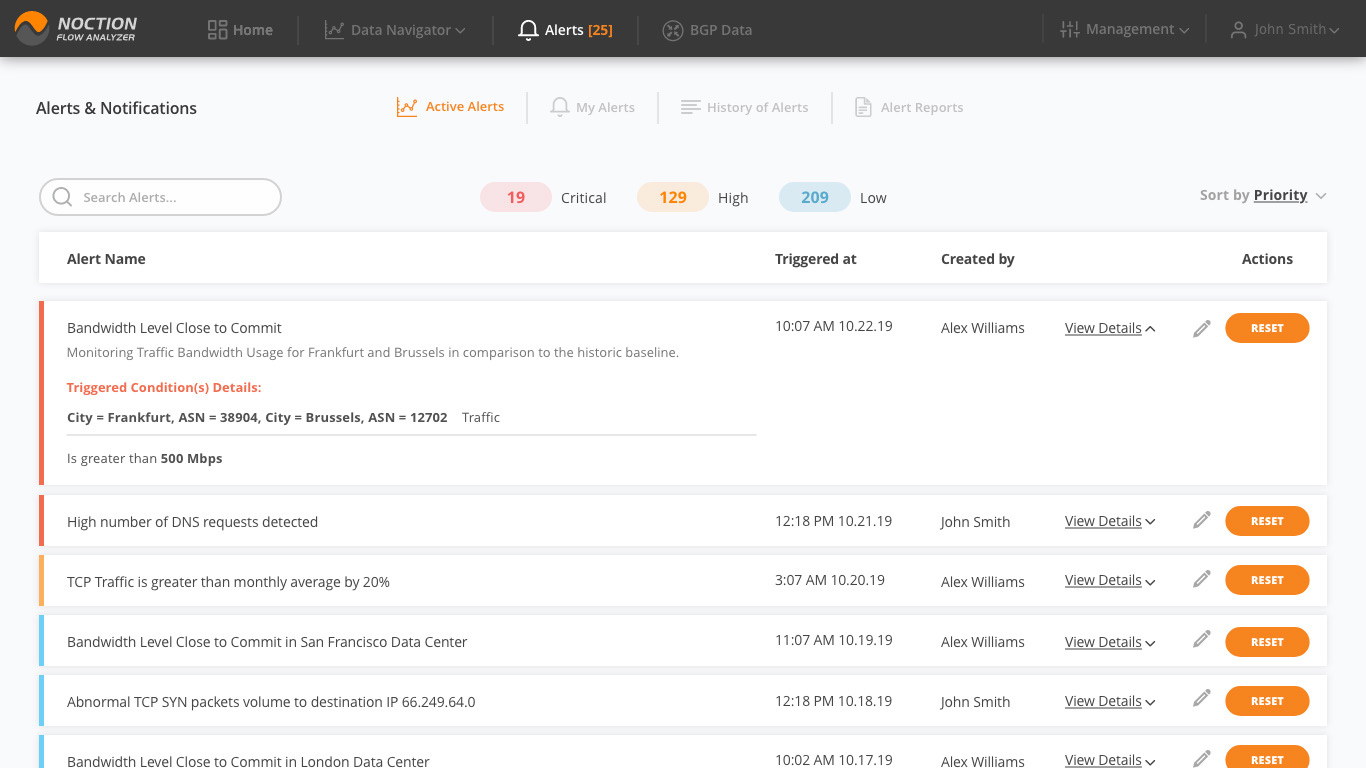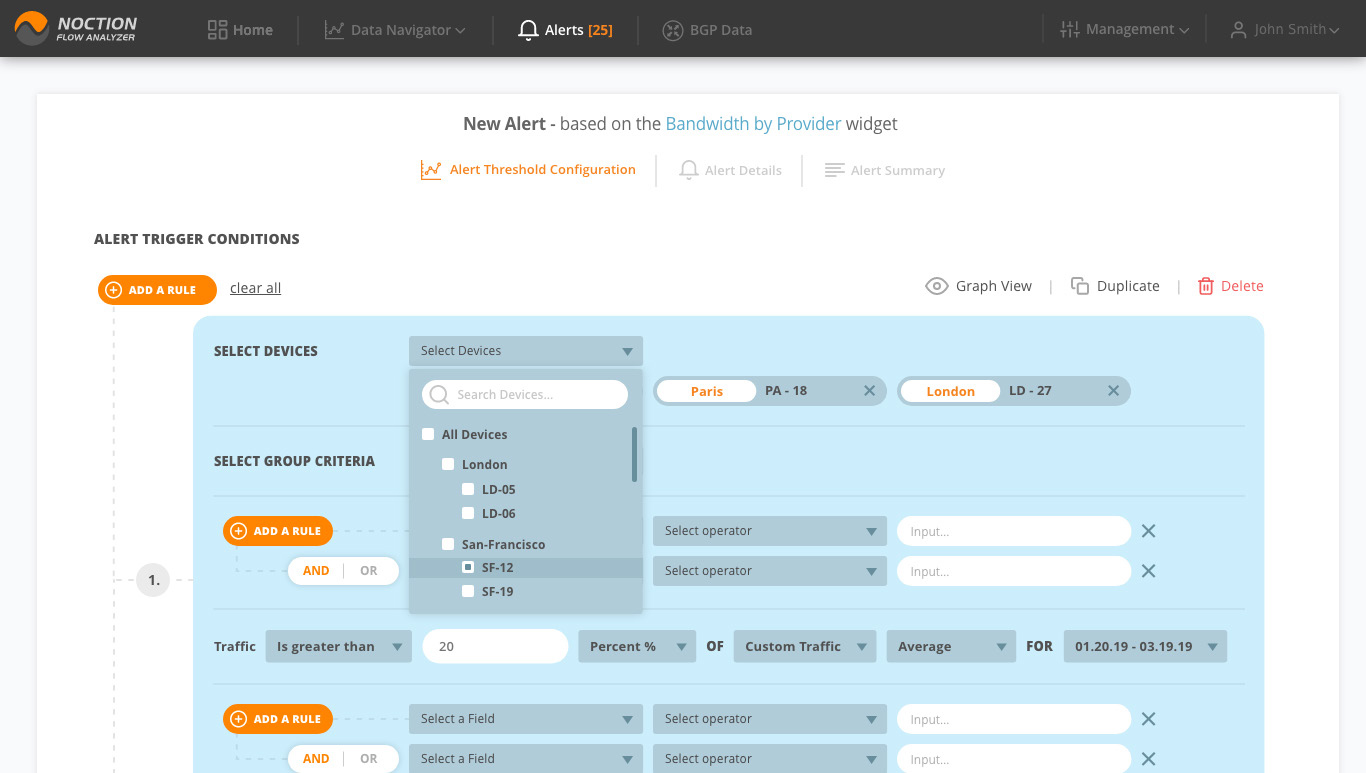 Comprehensive BGP Monitoring
View real-time BGP path changes and understand reachability as well as performance between your AS and the Autonomous Systems of your clients and/or application providers. Accelerate the process of finding suitable BGP peering candidates and make informed interconnection decisions.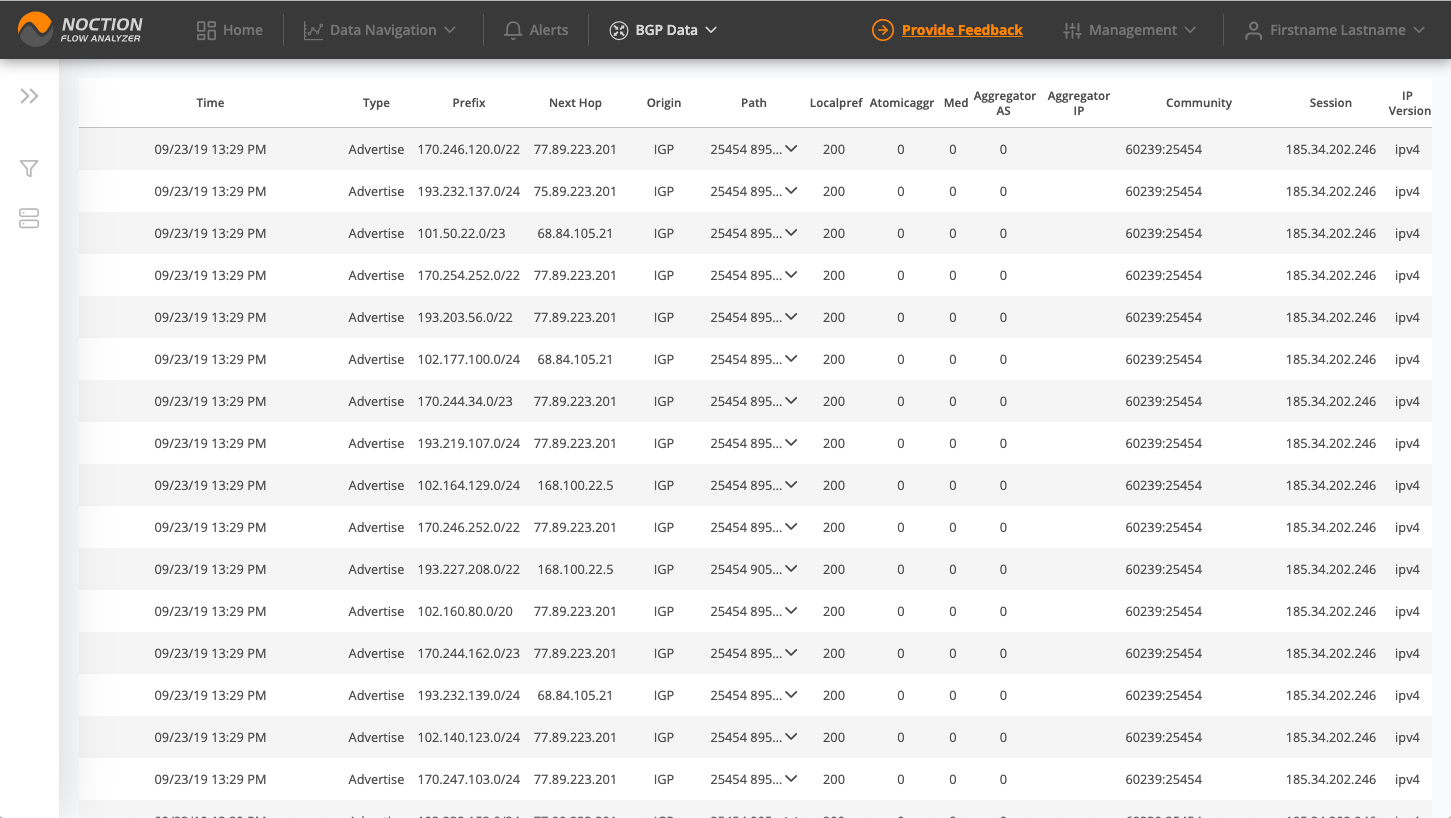 Why choose Noction Flow Analyzer:
Blazing Fast
With a more than 2 terabytes per second peak processing performance for a single DB query, obtaining even the most complex query results is a matter of seconds.
Highly Flexible Reporting Capabilities
Slice and dice your flow data in a multitude of new ways. Customize widgets and dashboards with a vast selection of sophisticated filters and metrics to better monitor, manage and optimize the performance of your network.
Prolonged Data Retention
Prolonged data retention, with the default level 3 data aggregation kept for 400 days. Query and make network optimization decisions based on a high definition view of your network activity.
Easy Deployment
Fast and easy deployment process takes less than 15 minutes. Easy device registration. Noction Flow Analyzer is simple and works out-of-the-box, automatically detecting devices exporting flows within your network.
Affordable and Cost-effective
Noction Flow Analyzer is priced per license at $299/month with no limitations in terms of network devices, interfaces or sites. Up to 10k FPS. Convenient annual subscription options are available. Optional BGP add-on is available at $199/month.
System Requirements
Hardware Requirements:
x86_64 architecture
Minimum 4x core CPU (8x core CPU recommended), SSE4.2 support
Minimum 32GB of RAM (64GB RAM recommended; 128GB RAM – optimal)
Minimum 250GB SSD storage (500GB SSD storage recommended) allocated to the /var partition
Software Requirements:
Please note that NFA can also be installed on a server running CentOS 7 x86_64 Minimal – Clean Install or RHEL 8. The minimum system requirements assume default configuration. Significantly increasing the flow collection rate might cause additional load on a server, thus requiring extra memory or a larger CPU.
Hardware resources depend on the amount of flows/s exported to NFA. For each additional 1,000 flows/sec, 1 GB of RAM and 0.2 of vCPU are required. An additional 2 GB of RAM and 4 vCPU are required when the BGP add-on is used. Values are directly proportional: RAM and vCPU numbers per 1,000 flows/sec.
For instance: 40,000 flows/sec will require 40 GB of RAM and 8 vCPU, plus 2 GB of RAM and 4 vCPU in case a BGP add-on is used.
About Noction
Noction is a privately funded technology company with offices in the US, Europe, and Asia.
Founded in 2011, Noction is providing cutting edge network intelligence technologies, enabling enterprises to take full advantage of maximum network performance for businesscritical applications such as e-commerce, VoIP and media streaming across IP networks.