Update: Tier 1 carriers performance March 3rd – April 6th
Update: Noction Intelligent Routing Platform performance results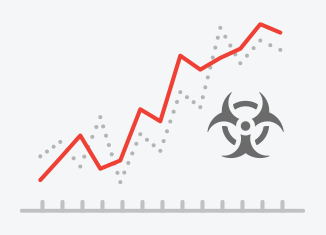 This is yet another COVID-19 related blog post. We know you've been reading too many of these lately, and yet thought it was important that we share with you a slightly different view of the topic.  
A lot of attention lately has been reasonably given to the Health Care, Pharma, and Biotech industries as a result of the COVID-19 spread. However, the novel coronavirus outbreak effect is much more significant. The pandemic started a chain of events, different from anything we've seen before, raising questions about the future state of the global economy as a whole.
Human life has been swamped with uncertainty and change, whilst people strive to adapt to remote-work and social distancing. Most stay indoors at all times to avoid getting infected. They now work, shop, learn and communicate online, affecting Internet traffic volumes and shifting its patterns. 
Much of the latest media reports and posts focus on these changes, with a lot less attention being paid to the performance of Internet backbone networks – the providers of critical connectivity and communication services enabling the overall digital world.
So far, the Internet and its major players have performed well, with no major network outages or blackouts; but would that performance remain sustainable? That is a big question. 
As we write this blog post, the downstream effects of the pandemic on major networks' performance continue to increase. Most of the big Network Providers out there claim their networks are prepared and have been engineered to perform well during moments of crisis such as this one. 
Here are a few notes from the press releases/news issued by the providers:
"We're prepared to ensure traffic flows smoothly across our network, regardless of increased demand."
Centurylink – 03/16/2020
"Verizon's fiber optic and wireless networks have been able to meet the shifting demands of customers and continue to perform well." 
Verizon (XO communications) – 03.22.2020 
"We are prepared for a potential impact to our network operations."
Cogent – 03.18.2020
"We operate our global network from multiple operational centres worldwide, which have full resiliency and failover capability between locations."
GTT Communications – 03.19.2020
"NTT has resources in place to provide our clients with continuity of service."
NTT – 03.18.2020
Let's look at the data from our Tier 1 Carriers Performance Monitoring Service for a chosen time interval (February 23rd, 2020 – March 23rd, 2020) to better understand the impact that the virus outbreak has on these entities. The graphs presented below contain visualizations of Packet Loss and Latency data for a select group of Tier 1 network providers. These include CenturyLink, Cogent, GTT, Level 3, NTT, Telia, XO, Zayo, and Hurricane Electric. Providers have been split into two groups for ease of graph reading. 
The first two graphs represent a detailed view of the average Packet Loss values for Tier 1's. A line of a particular color represents each network provider.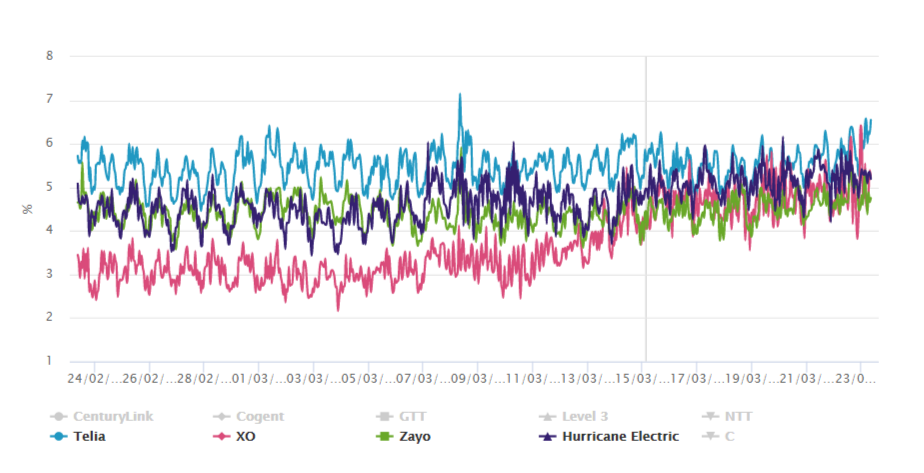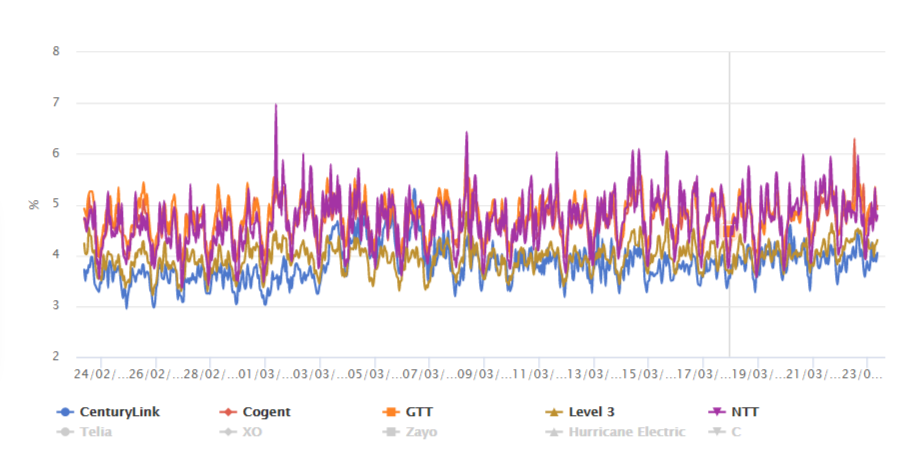 Now let's look at the two graphs representing the average Latency values for Tier 1's: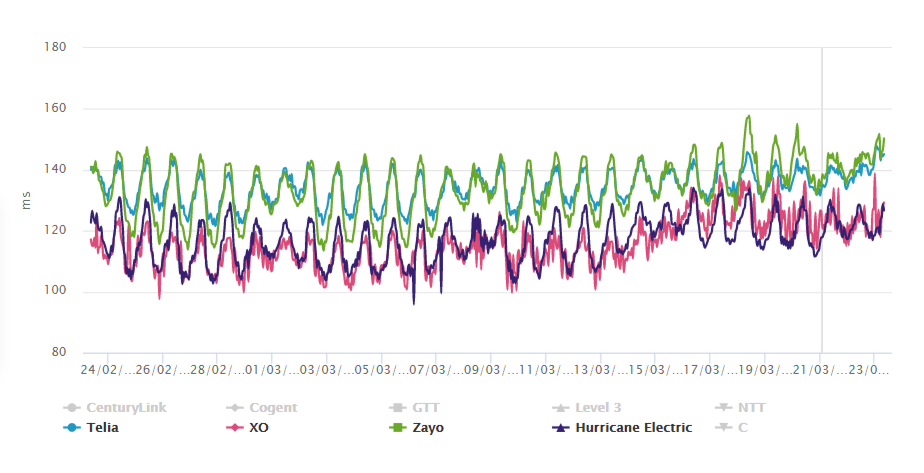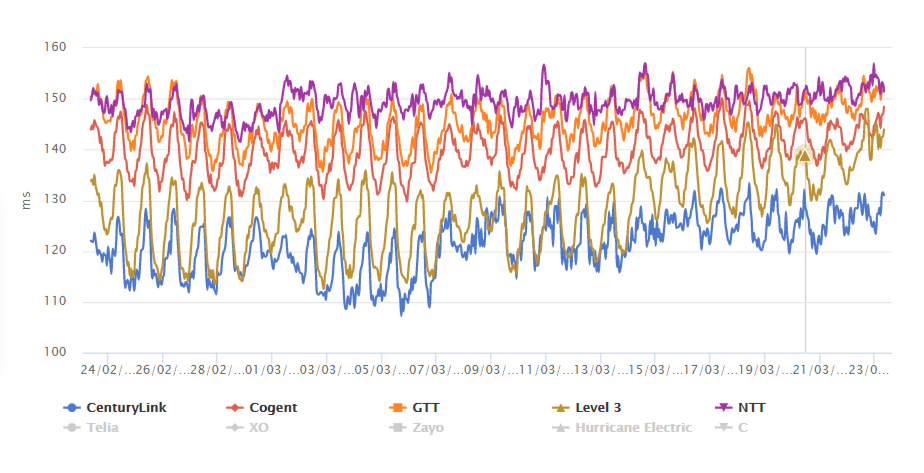 The graphs clearly show a significant increase in average Packet Loss and Latency for all providers. The uptrend is vividly observed starting mid-March, the same time when the employees of large and small companies have been advised to work remotely while various states issued stay-at-home directives. Taken all of this into account, we assume the Novel Coronavirus to be the main reason behind these network performance worsenings.
Tier 1 carriers performance March 3rd – April 6th
As the situation evolved, we continued to monitor the performance of Tier 1 network providers mentioned above. Let's look back at the period of March 3rd – April 6th. Although remaining relatively high, both average packet loss and packet latency values for all providers have eventually settled.
Average packet loss for all providers after the mid-march increase was mostly within 4% – 6% diapason: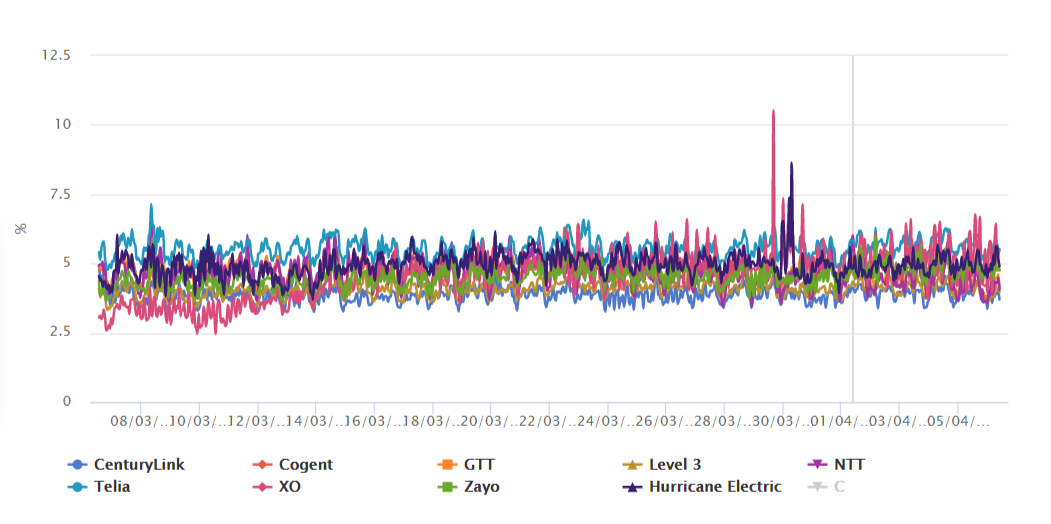 Average packet latency for all providers got stable and was mostly within 118 ms – 155 ms diapason: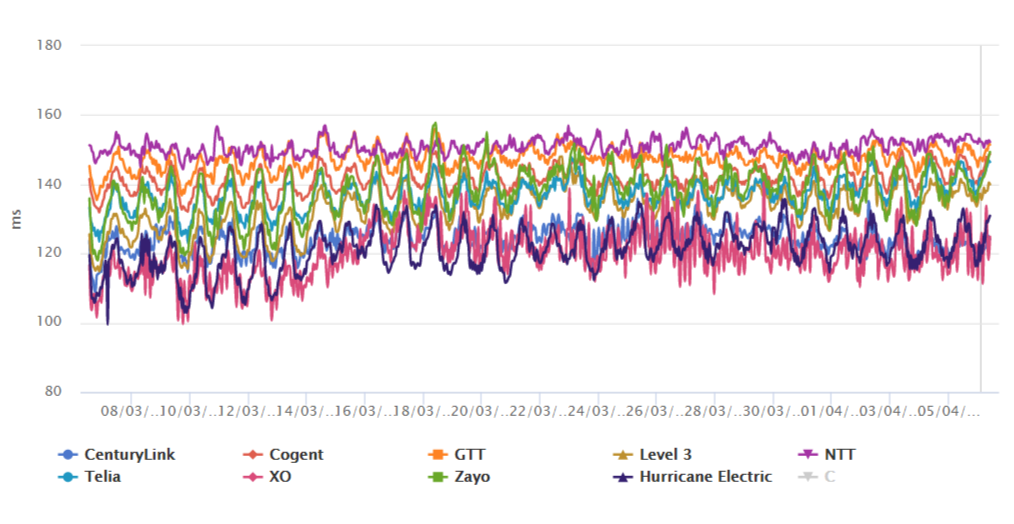 How accurate are the data one might ask? Well, all presented results are based on the analysis of the millions of successful probes continuously performed by Noction IRP Lite instances. Service focuses on Tier 1 carriers' performance results in the US. Rare data points from distant locations e.g. Alaska or Hawaii are being omitted.
The data collection method comprises of a NetFlow collector looking at destinations an installed network is speaking to and the explorer component then performing periodic probing via ICMP, UDP, and TCP_Syn, checking the performance metrics. The Tier 1 ISPs' average Packet Loss and Latency data are well sampled, as most of the IRP Lite enhanced networks are typically speaking to around a third of the routing table each day.
We combat bias by collecting and utilizing the types of data mentioned above as opposed to third-party surveys or the information provided by the Tier 1 network providers themselves.
There is no doubt that the coronavirus outbreak will have significant consequences for all technology companies. However, those investing in technology to enhance network operations, and the customers of those companies will be the ones least affected. At these difficult times, it is imperative for network providers at all levels to maintain their quality of service, ensuring stable communications and connectivity services, and enabling the ones staying at home to continue to work, study, and stay entertained. Noction is here to help. 
Our customers depend on the Intelligent Routing Platform for mission-critical services. For a significant number of them, the pandemic makes Noction solutions even more critical for their activity as the Internet traffic experiences major turbulences.
Noction Intelligent Routing Platform performance results
The graphs below highlight the performance of Noction IRP for Noction customers last week. Average packet loss for the problematic destinations has been reduced by IRP from 50% – 60% to less than 5%.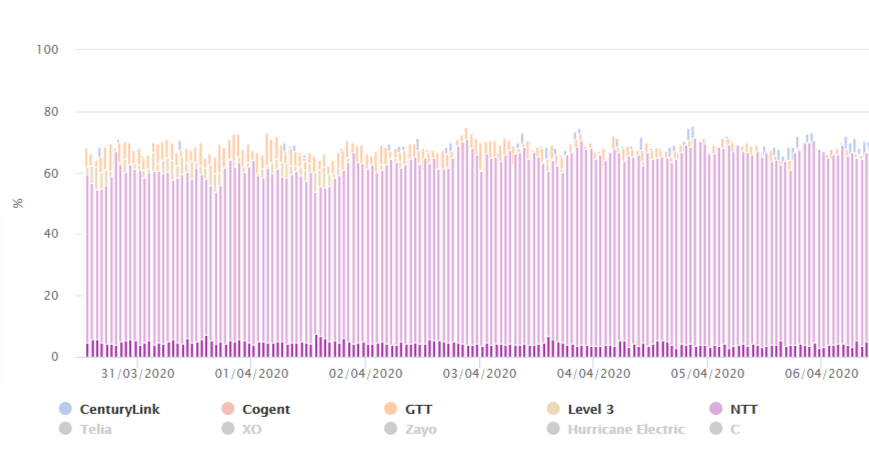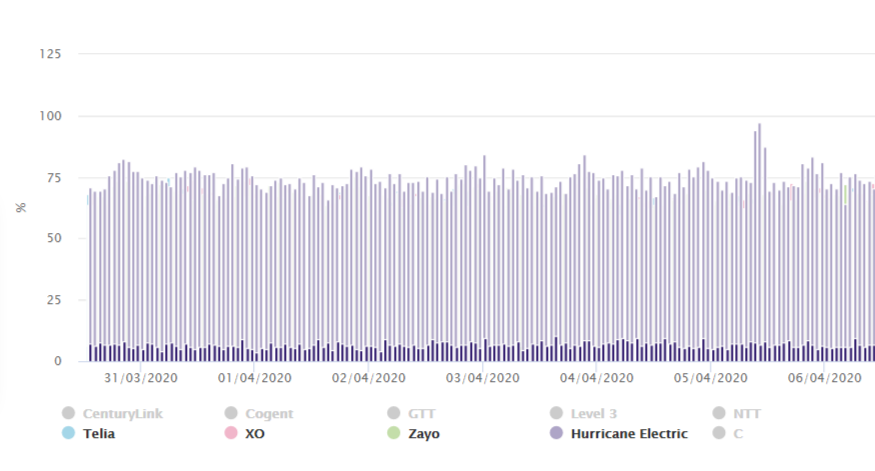 Average packet latency improvement for the problematic destinations was at ~ 20% – 25%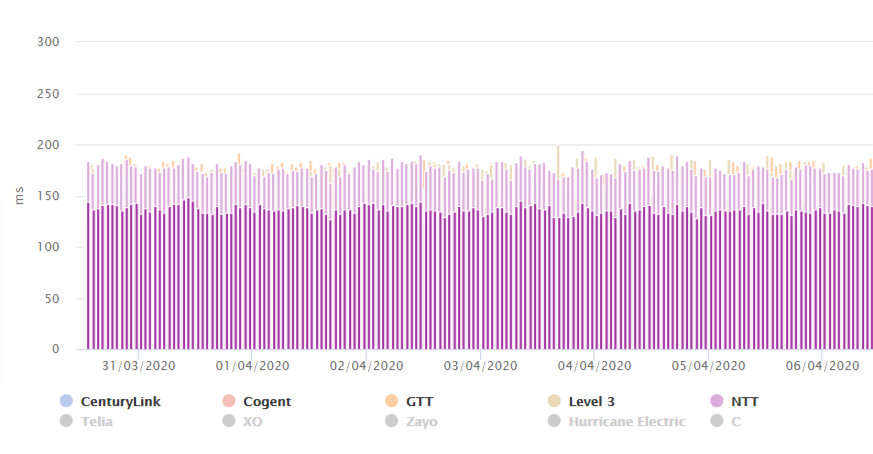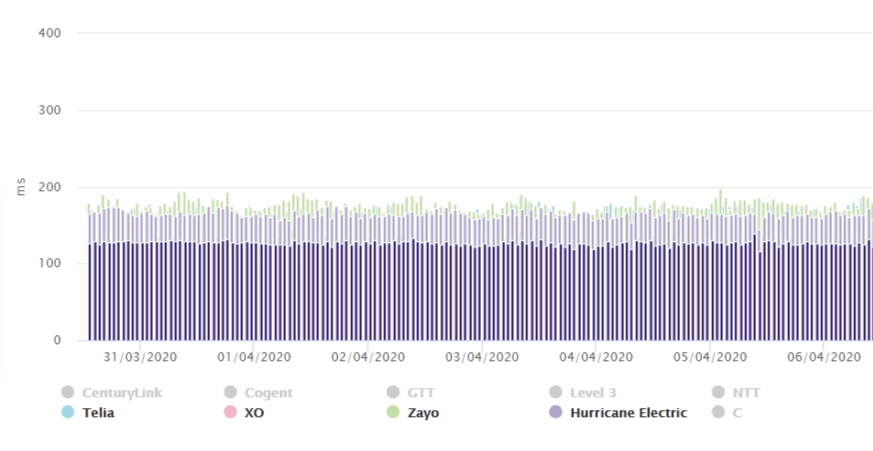 Noction products are well provisioned to handle, analyze, and optimize significant spikes in traffic. We have not observed, nor do we foresee any impact on our customers' IRP instances performance, reliability, or security in the future. Moreover, our company experts are here 24/7 to stand by our customers and make sure that Noction software continues to deliver outstanding results and steady performance that it is known for.
To learn more about how Noction can help accelerate your network performance, automate BGP management and maintain commit levels for all your providers, request a Personalized Demo or simply give us a call at +1-650-618-9823.