Time flies, NFA evolves.
Today we are excited to announce the release of Noction Flow Analyzer v 20.05.0 The new version is now even more powerful, flexible, and easier to work with. It features support for CentOS 8, refined Device Inventory section logic, Dark Interface Mode, Configuration Settings Management Panel and much more. We've also devoted time to a number of bug fixes, including the complete revision and enhancement of the Netflow v9 / IPFIX flow capture and sampling algorithms.
Support for CentOS 8
Within the past few months, we've received a lot of requests from people asking for an option to install NFA on servers running CentOS 8. These requests were too popular to be placed in the backlog. We made sure that the support for CentOS 8 was included in this major release.
Refined Device Inventory logic
Devices can now easily be enabled/disabled from the front-end, without the need to delete them. All devices can be assigned to locations for ease of management. BGP data obtained from a device that is already set to peer with NFA can be shared and used for the other devices as well.
Configuration Settings
NFA now has a large set of configuration settings available in the front end to fine-tune the system's behavior. All parameters are preset with the default values and are organized in groups.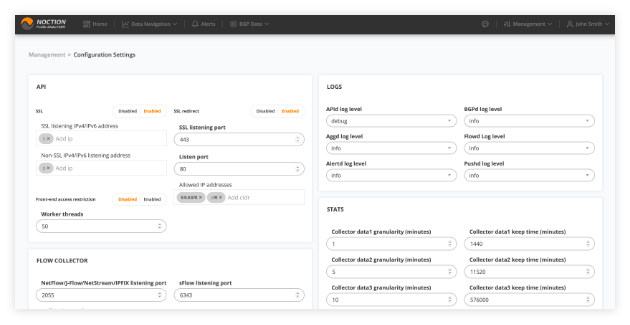 Hello, Darkness!
The NFA interface color theme can now be changed. Choose between the Light, Dark, or Auto options. When the Auto option is selected, NFA will follow your device's default theme.
Whether you're a night owl who wants to give your eyes a rest or you just want to change things up a bit, you'll definitely find this capability useful.
Is NFA still in Free Open Beta? Will it really be priced at $299/month?
These are the questions we've got asked a lot lately.
Yes, NFA remains in Open Beta. Polishing one of the world's most versatile and affordable network traffic analysis tools takes time. We want to make sure we nail it.
As for the cost, there is a popular misconception in the networking industry that all flow analyzers must come with a soaring price tag along with mind-boggling complexity, by adding devices, interfaces or locations as a means to scale the price. To us, this is the wrong approach.
Noction is committed to making quality NetFlow analysis software available and affordable to all. We're on a mission to bring NFA to the masses. The envisioned price of $299/month with unlimited devices, interfaces, and sites policy will allow us to do just that.
---
If this update did not include the feature you've been expecting, please understand. We do continue to listen to your opinions and feedback carefully. The most popular feature requests will be addressed in the upcoming versions.
---
Haven't installed the Noction Flow Analyzer yet?
| | | |
| --- | --- | --- |
| | OR | |
Should you have any questions about NFA or the installation process, please email support@noction.com.
Noction Inc.
4247 Piedmont Avenue
Oakland, CA 94611